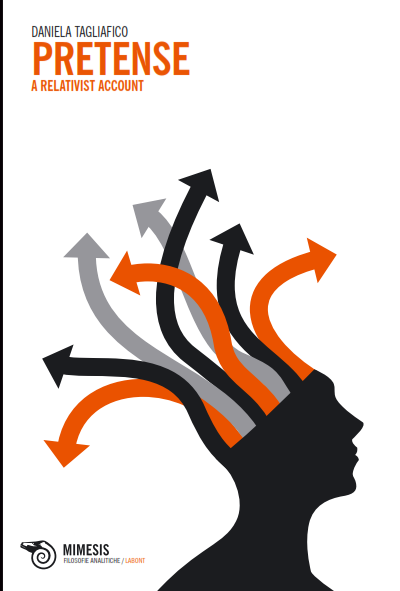 Pretense. A relativist account
Daniela Tagliafico
Pretending is a puzzling activity. Why should we waste our time building up
representations of an imaginary world when it would be better to acquire more
information about the real one and avoid getting confused? Engaging in games
of make believe, however, also means to be faced with new, possible situations,
and thus to anticipate what could happen if something were the case, how we or
other people could react, what decisions we should take, etc. In a word, pretense
plays are a kind of gym, a space where children exercise themselves with unusual
situations, in order to be ready to face with whatever life could present them.
This book aims to offer an account of the architecture of the mind that is required
in order to engage in and understand pretense, paying special attention to the
nature of our imaginings, their power to motivate our actions, and the kinds of
metarepresentational abilities that are required in order to keep our imaginary
representations distinct from the representations of reality. If pretense is a uniquely
human ability, understanding it means to understand what it is that makes us so peculiar.
Table of contents
PREFACE, p. 11
I. PRETENSE, IMAGINATION, AND MINDREADING, p. 17
1. Pretense, p. 18
2. Imagination, p. 29
3. Mindreading, p. 35
Summary of the chapter, p. 47
II. THE NATURE OF A PRETEND MENTAL STATE, p. 49
1. Imagination as a mental state type, p. 49
2. Recreativism, p. 63
Summary of the chapter, p. 76
III. MOTIVATION, p. 79
1. Are pretend desires really necessary?, p. 80
2. Are pretend desires really possible?, p.88
Summary of the chapter, p. 104
IV. METAREPRESENTATIONAL ABILITIES, p. 107
1. Leslie's theory of pretense, p. 108
2. Behavioral vs. Metarepresentational teorie, p. 113
3. Perner and the Pernerians: the multiple models theory and the collating mind, p. 125
4. Meini and Voltolini: a minimally metarepresentational account, p.129
Summary of the chapter, p. 133
V. IMAGINATION IN A RELATIVIST PERSPECTIVE, p. 135
1. Strong Moderate Relativism, p. 135
2. Applying SMR to the mind, p. 139
3. Beyond egocentricity, p. 152
Summary of the chapter, p. 161
VI. A RELATIVIST ACCOUNT OF PRETENSE, p. 163
1. Metarepresentational abilities, p. 164
2. A Strong Moderate Relativist account of pretense, p. 173
3. Pretense and mindreading, p. 180
Summary of the chapter, p. 181
REFERENCES, p. 183